Y, de nuevo, la última de las tres miniaturas que pinté para el juego de mesa Skulltales y que faltaba preparar el artículo de Paso a Paso. Esta vez un esqueleto con armadura ligeramente oxidada.
Espero que os guste y os sea de utilidad!!! ;)
And, again, the last of the three miniatures I painted for Skulltales, the Boardgame, whose Step by Step article was still unfinished. This time we have a Skeleton with a slightly rusty armour.
I hope you like it and it will be useful for you!!! ;)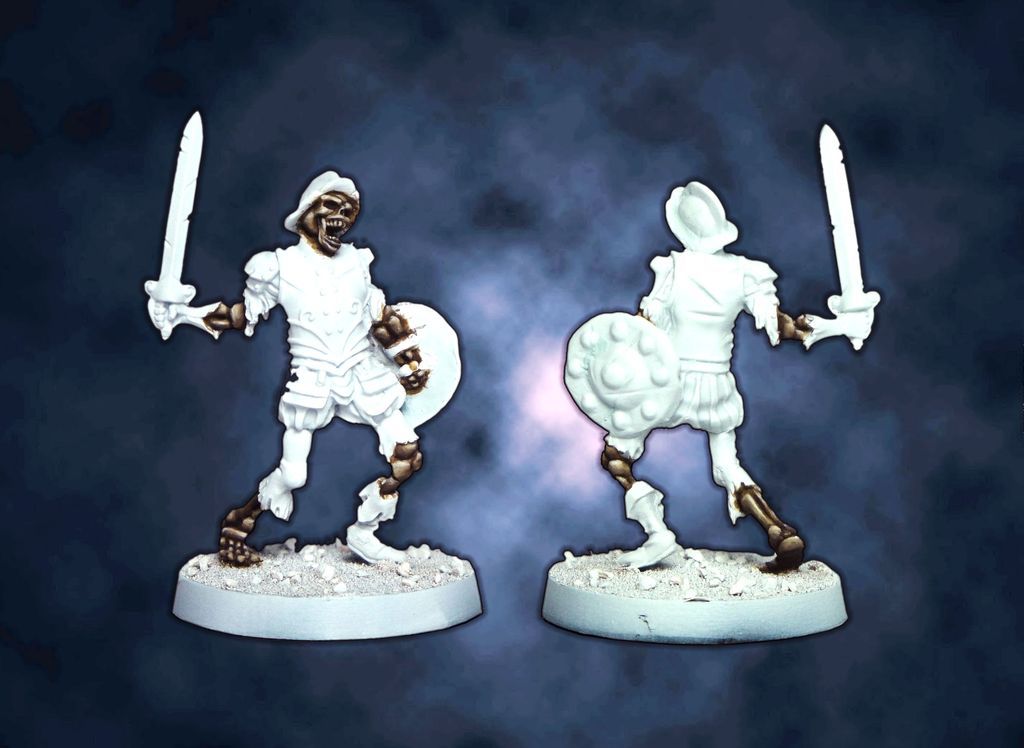 Colores Hueso / Colours Bone
Sombras 1: Capa base + Marrón Carbonizado
Sombras 2: Marrón Carbonizado
Sombras 3: Sombras 2 + Negro
Luces 3: Luces 2 + Blanco Calavera
Basecoat: Earth
Shadows 1: Basecoat + Charred Brown
Lights 1: Khaki
Shadows 2: Charred Brown
Lights 2: Bonewhite
Shadows 3: Shadows 2 + Black
Lights 3: Lights 2 + Dead White
2. Metales: Hierro y Oro /
Metals: Iron and Gold
Colores Metal Hierro / Colours Metal Iron
Sombras 1: Capa base + Gris Carbón Denso
Sombras 2: Gris Carbón Denso
Luces 2: Luces 1 + Blanco Calavera
Sombras 3: Sombras 2 + Negro
Basecoat: Cold Grey
Shadows 1: Basecoat + Heavy Charcoal
Lights 1: Stonewall Grey
Shadows 2: Heavy Charcoal
Lights 2: Lighst 1 + Dead White
Shadows 3: Shadows 2 + Black
Lights 3: Dead White
Shadows 4: Black
Colores Metal Oro / Colours Metal Gold
Capa base: Marrón Podrido
Luces 1: Capa base + Amarillo Soleado
Sombras 2: Sombras 1 + Marrón Carbonizado
Luces 2: Amarillo Soleado
Sombras 3: Marrón Carbonizado
Luces 3: Luces 2 + Blanco Calavera
Basecoat: Filthy Brown
Shadows 1: Leather Brown
Lights 1: Basecoat + Sun Yellow
Shadows 2: Shadows 1 + Charred Brown
Lights 2: Sun Yellow
Shadows 3: Charred Brown
Lights 3: Lights 2 + Dead White
Shadows 4: Black
Lights 4: Dead White
3. Vestimenta: Camisa y Pantalón /
Clothing: Shirt and Pants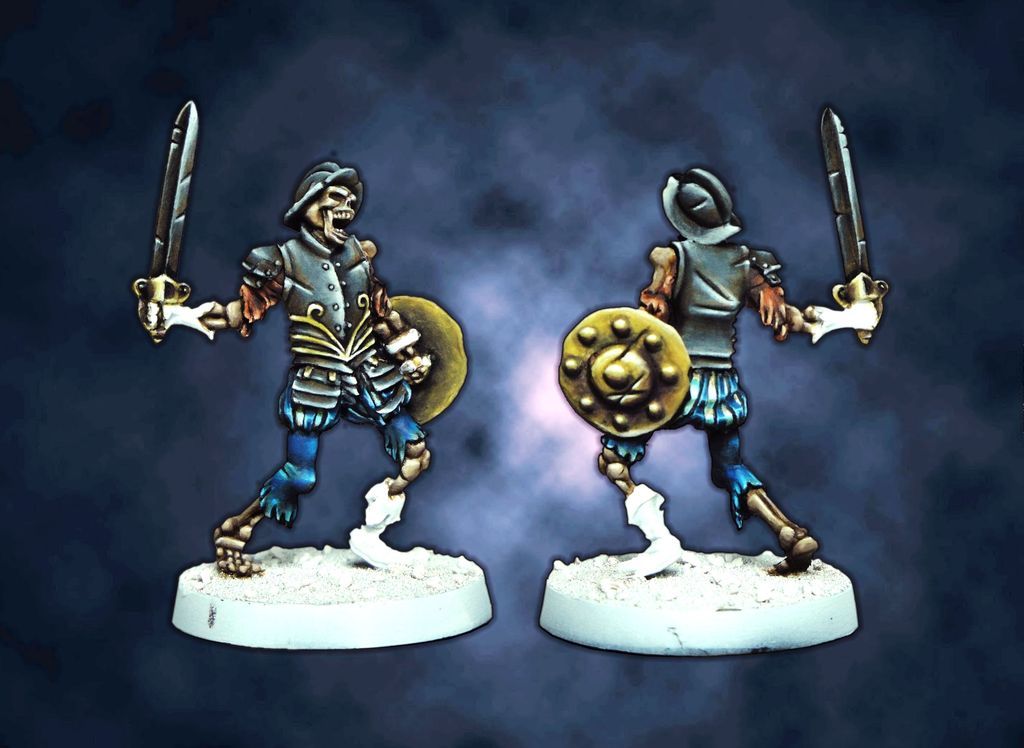 Colores Camisa / Colours Shirt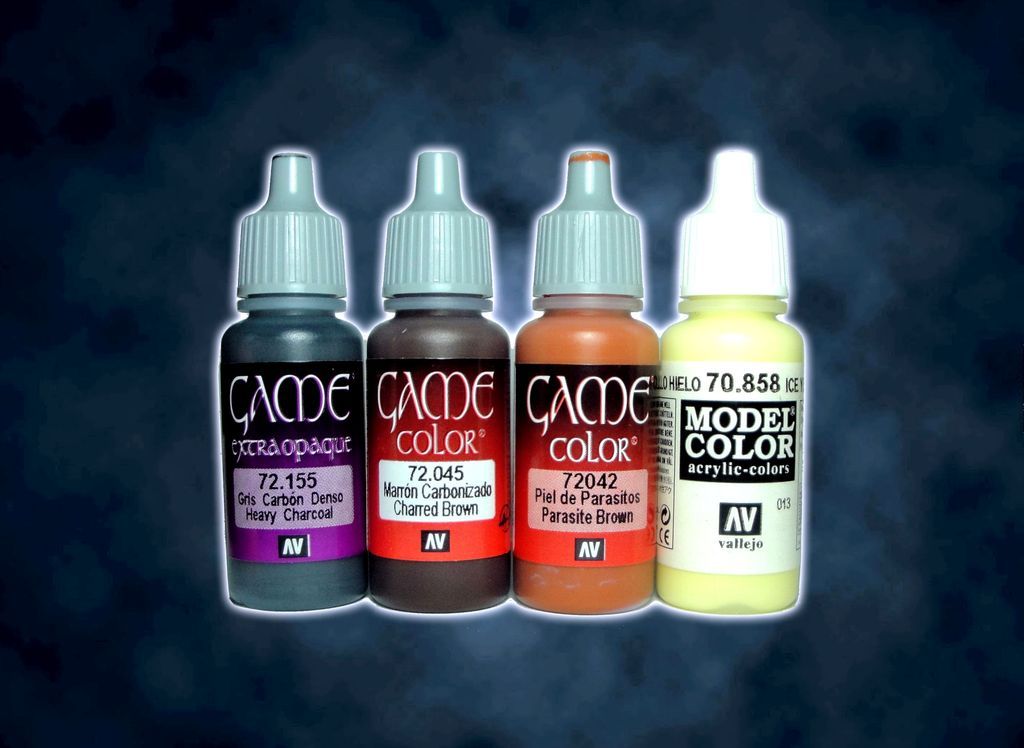 Capa base: Piel de Parásitos
Sombras 1: Capa base + Marrón Carbonizado
Luces 1: Capa base + Amarillo Hielo
Sombras 2: Marrón Carbonizado
Sombras 3: Sombras 2 + Gris Carbón Denso
Basecoat: Parasite Brown
Shadows 1: Basecoat + Charred Brown
Lights 1: Basecoat + Ice Yellow
Shadows 2: Charred Brown
Lights 2: Ice Yellow
Shadows 3: Shadows 2 + Heavy Charcoal
Colores Pantalón / Colours Pants
Capa base: Azul Denso + Gris Carbón Denso
Sombras 1: Gris Carbón Denso
Sombras 2: Sombras 1 + Negro
Luces 2: Luces 1 + Amarillo Hielo
Basecoat: Heavy Blue + Heavy Charcoal
Shadows 1: Heavy Charcoal
Lights 1: Heavy Blue
Shadows 2: Shadows 1 + Black
Lights 2: Lights 1 + Ice Yellow
Lights 3: Ice Yellow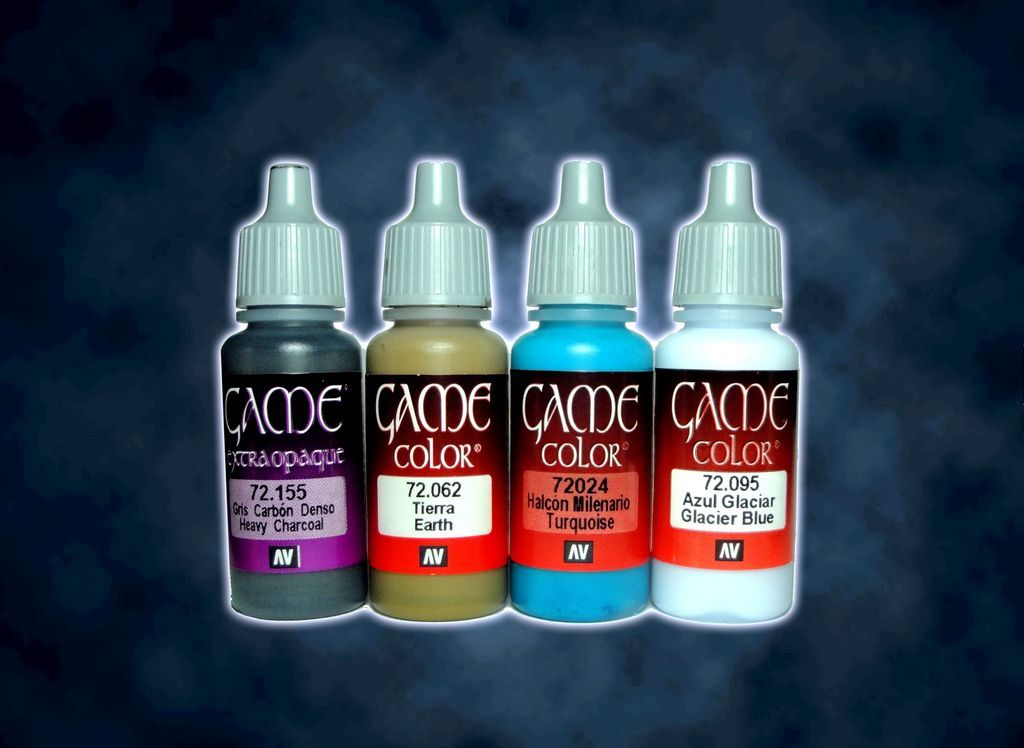 Sombras 1: Capa base + Halcón Milenario
Sombras 2: Halcón Milenario
Sombras 4: Gris Carbón Denso
Basecoat: Glacier Blue
Shadows 1: Basecoat + Turquoise
Shadows 2: Turquoise
Shadows 3: Earth
Shadows 4: Heavy Charcoal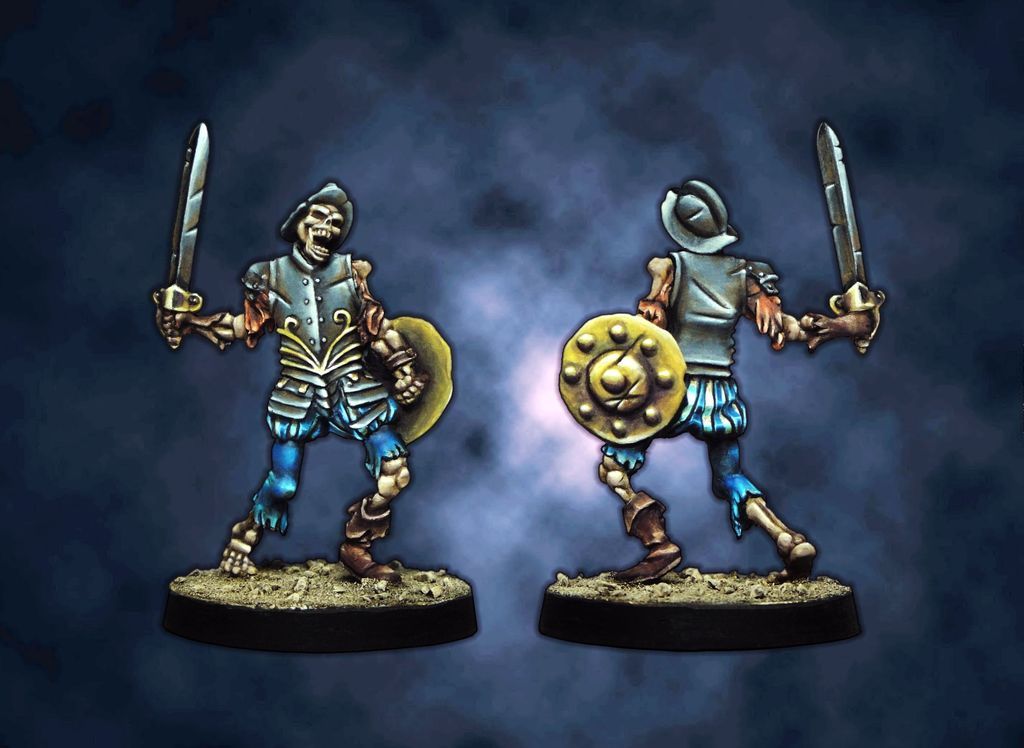 Colores Cuero / Colours Leather
Sombras 1: Marrón Carbonizado
Luces 1: Capa base + Blanco Hueso
Sombras 2: Sombras 1 + Gris Carbón Denso
Basecoat: Earth
Shadows 1: Charred Brown
Lights 1: Basecoat + Bonewhite
Shadows 2: Shadows 1 + Heavy Charcoal
Lights 2: Bonewhite
Algunas fotos más de la miniatura acabada:
Some more pictures of the finished miniature: