Aprovechando que recientemente disfrutamos de Halloween, hoy os traigo al blog una de las geniales calabazas de la compañía Tiny Tales. El diseño de la miniatura establece el punto focal en la cabeza de calabaza así que tiene sentido que el proceso de pintado mantenga esa referencia para mantener la coherencia de la miniatura. Así, pintaré la cara con un naranja muy saturado que realce esa zona y utilizaré tonos violetas para conseguir un fuerte contraste (caso del sombrero y de los tonos de sombra tanto en pantalones como zapatos). A continuación, añadiré un contraste adicional entre el verde oscuro de la chaqueta y el rojo del sombrero y, por último, finalizo con algunos tonos más neutros como el gris del pantalón o el gris azulado de los bolsillos.
Como siempre, espero que os guste el resultado y cualquier comentario es bienvenido!
We've recently enjoyed Halloween, so today I bring to the blog one of the awesome pumpkings from Tiny Tales company. The design of the miniature sets the head of the pumpking as the focal point so it has sense that the painting process keeps on the same reference to maintain the coherence of the miniatures. That's why I'll paint the head with a very saturated orange that highlight this zone and I'll use purple tones to obtain a strong contrast (the hat and purple shadows both in trousers and shoes). Next, I'll add an extra contrast between the dark green from the jacket and the red ribbon of the hat. Finally, I'll end the painting process with some neutral tones like the grey of the trousers and the blue-gray of the pockets.
As always, I hope you enjoy it and any comments are welcome!
1. Calabaza /
Pumkping
Colores Calabaza / Colours Pumkping
Capa base: Piel de Parásitos
Sombras 1: Capa base + Carne Oscura
Luces 1: Capa base + Naranja Fuego
Sombras 2: Carne Oscura
Luces 2: Naranja Fuego
Sombras 3: Sombras 2 + Violeta Denso
Luces 3: Amarillo Dorado
Los detalles de la calabaza con Verde Negro Denso.
Basecoat: Parasite Brown
Shadows 1: Basecoat + Dark Fleshtone
Lights 1: Basecoat + Orange Fire
Shadows 2: Dark Fleshtone
Lights 2: Orange Fire
Shadows 3: Shadows 2 + Heavy Violet
Lights 3: Gold Yellow
The Pumpking details are painted with Heavy Blackgreen.
2. Chaqueta y Pantalón /
Jacket and Trousers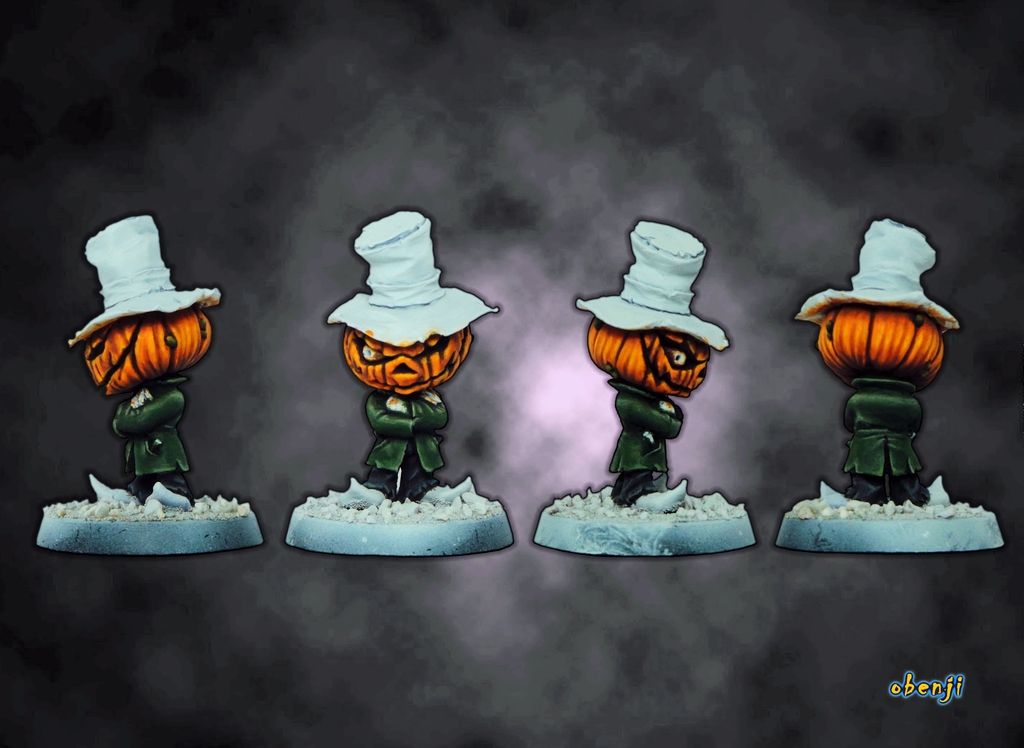 Colores Chaqueta / Colours Jacket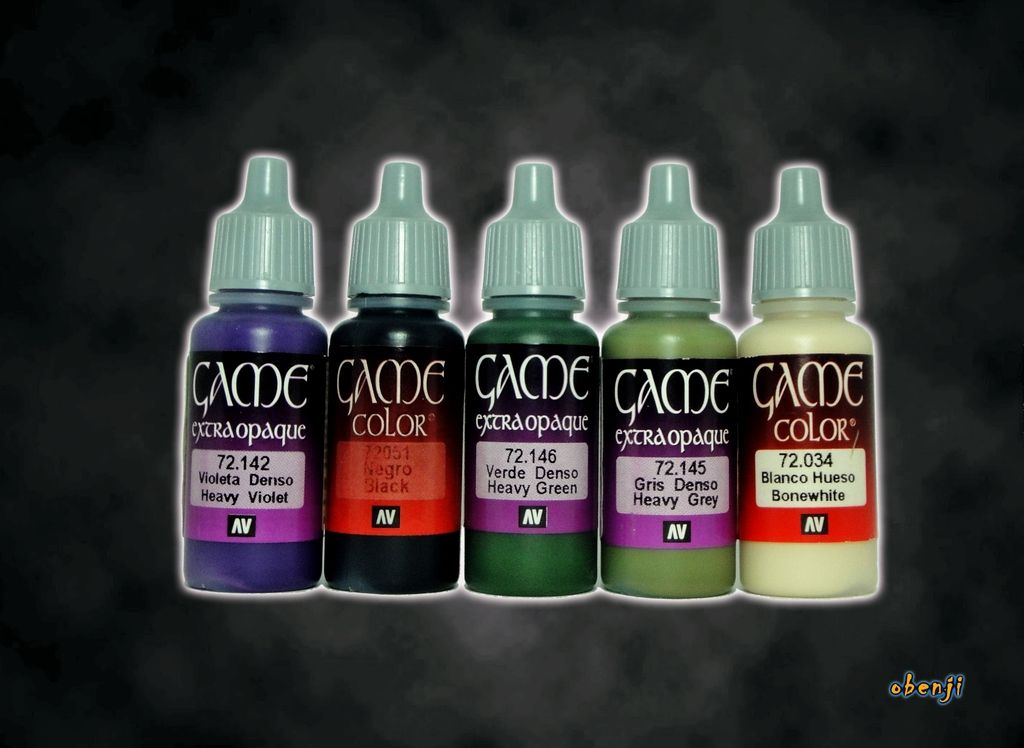 Capa base: Verde Denso + Gris Denso
Sombras 1: Verde Denso
Luces 1: Gris Denso
Sombras 2: Sombras 1 + Violeta Denso
Luces 2: Luces 1 + Blanco Hueso
Sombras 3: Sombras 2 + Negro
Basecoat: Heavy Green + Heavy Grey
Shadows 1: Heavy Green
Lights 1: Heavy Grey
Shadows 2: Shadows 1 + Heavy Violet
Lights 2: Lights 1 + Bonewhite
Shadows 3: Shadows 2 + Black
Colores Pantalones / Colours Trousers
Capa base: Gris Frío
Sombras 1: Gris Carbón Denso
Luces 1: Gris Muralla
Sombras 2: Sombras 1 + Violeta Denso
Sombras 3: Sombras 2 + Negro
Basecoat: Cold Grey
Shadows 1: Heavy Charcoal
Lights 1: Stonewall Grey
Shadows 2: Shadows 1 + Heavy Violet
Shadows 3: Shadows 2 + Black
3. Sombrero /
Hat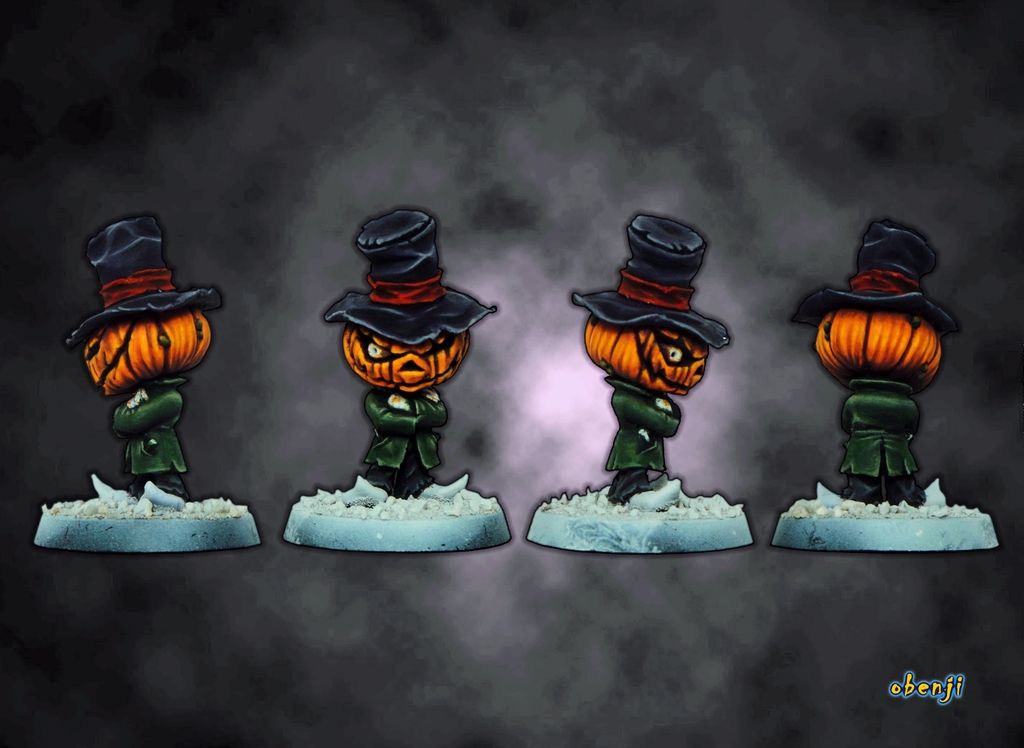 Colores Sombrero / Colours Hat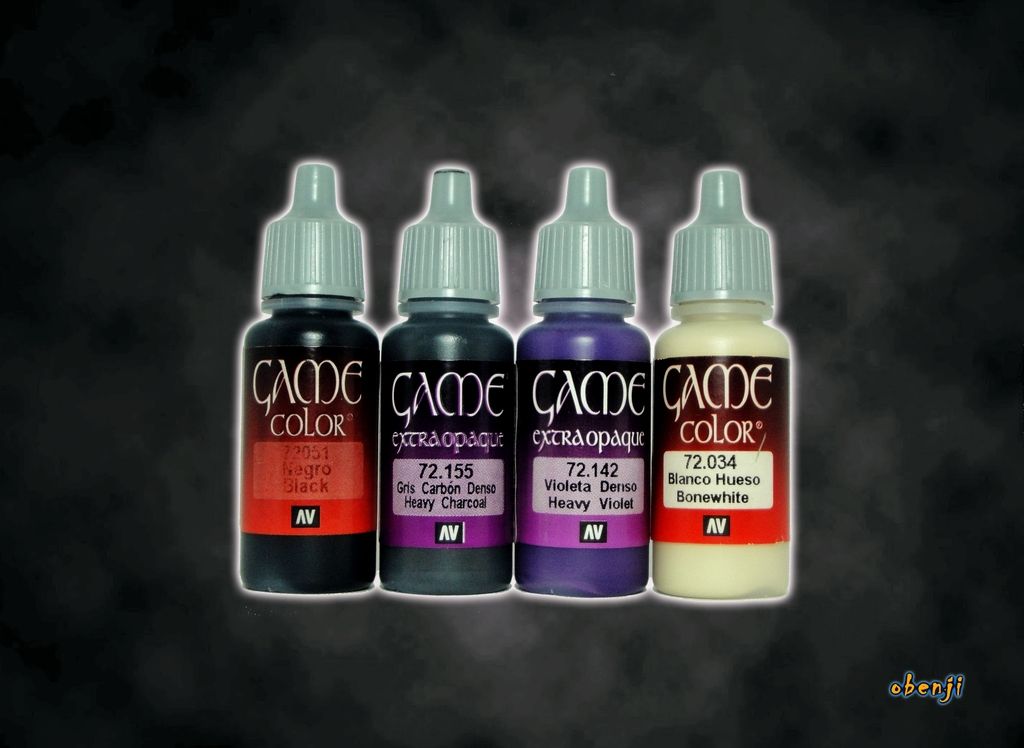 Capa base: Violeta Denso
Sombras 1: Capa base + Gris Carbón Denso
Luces 1: Capa base + Blanco Hueso
Sombras 2: Gris Carbón Denso
Luces 2: Luces 1 + Blanco Hueso
Sombras 3: Sombras 2 + Negro
Basecoat: Heavy Violet
Shadows 1: Basecoat + Heavy Charcoal
Lights 1: Basecoat + Bonewhite
Shadows 2: Heavy Charcoal
Lights 2: Lights 1 + Bonewhite
Shadows 3: Shadows 2 + Black
Colores Cinta / Colours Ribbon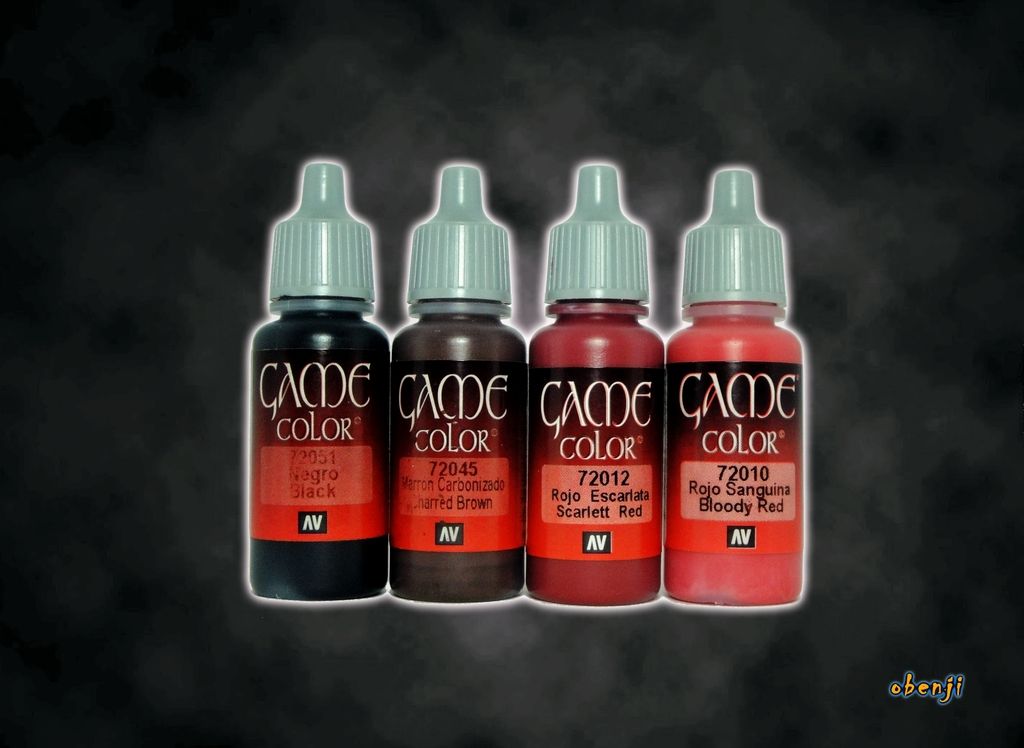 Capa base: Rojo Escarlata
Sombras 1: Capa base + Marrón Carbonizado
Luces 1: Capa base + Rojo Sanguina
Sombras 2: Marrón Carbonizado
Luces 2: Rojo Sanguina
Sombras 3: Sombras 2 + Negro
Basecoat: Scarlett Red
Shadows 1: Basecoat + Charred Brown
Lights 1: Basecoat + Bloody Red
Shadows 2: Charred Brown
Lights 2: Bloody Red
Shadows 3: Shadows 2 + Black
4. Zapatos y detalles finales /
Shoes and final details
Colores Zapatos
/ Colours Shoes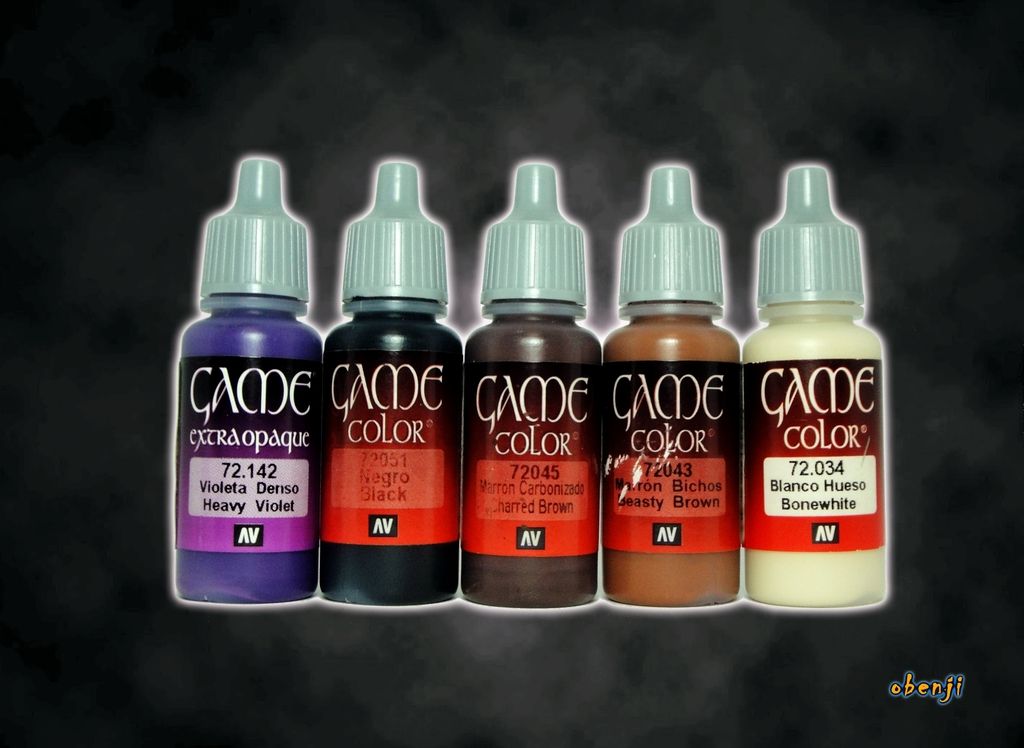 Capa base: Marrón Bichos
Sombras 1: Marrón Carbonizado
Luces 1: Capa base + Blanco Hueso
Sombras 2: Sombras 1 + Violeta Denso
Luces 2: Luces 1 + Blanco Hueso
Sombras 3: Sombras 2 + Negro
Basecoat: Beasty Brown
Shadows 1: Charred Brown
Lights 1: Basecoat + Bonewhite
Shadows 2: Shadows 1 + Heavy Violet
Lights 2: Lights 1 + Bonewhite
Shadows 3: Shadows 2 + Black
Y para finalizar, algunas imágenes extra desde diferentes ángulos: